John Ost Biography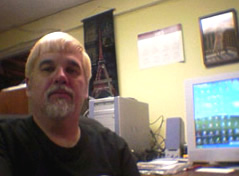 In 1994, I was asked by Wired Magazine learn how teachers and students were beginning to use the Internet. I was invited by a teacher in Maryland, Patti Weeg , to meet online with a group of students from many different countries that she met every weekend online. She wanted me to discuss the writing life of a journalist with the students. In exchange for my participation, Patti agreed to tell me about the work she was doing online with an organization called Kidlink, 100,000 teachers and students engaged in global educational projects online. I thought this was a fair trade and so I agreed to attend the online session.
When the chat began, I was surprised to meet a truly culturally diverse group of children from the U.S., Europe, the Middle East and South America. We had talked about my travels and the writing life for about ten minutes when one of the students asked: "Can we write a story together?" I said yes and my life as a teacher and writer changed forever.
As we wrote together, I realized I was inside a special place to teach writing. I cold see the students think about the writing process as they engaged in the act of writing because we were discussing and recording their thoughts as they were writing. I was hooked and I have been teaching students writing using online tools ever since.
Since that meeting, I have developed global education projects with teachers throughout the world and am considered by many to be an expert on using the Internet to teach writing to K-12 students. I have written two books about the Internet's impact on K-12 education and I also directed the U.S. office of my publisher's company for two years. Last year, I was a virtual writer-in-residence at Northwestern University. Currently, I am teaching writing online to high school students around the country through Northwestern's online program for gifted and talented students. Students in the program work on the entire writing process with me by working inside my online interactive writing center that I co-developed. For a more complete discussion of what it is like to teach writing inside a chat room, see my paper called "Teaching inside an Electronic Writing Space", which is posted in the story features section of the Writer's Corner web site.
Formal Credentials
I received a Masters Degree in Science Journalism from Boston University in 1995 and have worked as a freelance science and medical writer for more than two decades. In the mid-1990's, I was a U.S. medical and science correspondent for Focus Magazine in Germany. While working for Focus, I wrote about emerging technologies such as the use of artificial intelligence in medicine, breakthroughs in burn treatment at the Boston Shriners' burn unit and the use of light therapy to change the biological clock of night-shift workers. I also wrote about the questionable effectiveness of the Patriot missile during the Gulf War and also have researched the human radiation experiments story in depth. Subsequently, I was invited by the Department of Energy to work as a staff member for the Office of Human Radiation Experiments. In addition to my work at Focus, my credits also include feature stories and short pieces for Destination Discovery Magazine, Discovery Channel Online, Wired, the Boston Globe, and many regional newspapers and magazines. I am very comfortable writing for print or online publications. My online feature about the impact of the Bosnian War on Bosnian children was selected as a Discovery Channel Online "Best" in 1995. (This story can be seen at http://www.writerscorner.com/promises/ ).
Prior to turning towards a full-time writing career, I was trained as a medical sociologist. I specialized in the history and politics of the profession and focused my doctorate research on medical technology's impact on spiraling health care costs. My research training as a sociologist prepared me well for my career in journalism so I am quite adept at using online databases as well as conducting print research in the library. My research on the economic and social costs of medical technology appeared about a decade before health care cost containment became a national issue in the United States. When funding was no longer available for my research, I used my computer and research skills to become a computer consultant in the private sector just as the microcomputer revolution blossomed. So, my abilities with the computer are grounded in practical application in both the public and private sector.
I have continued teaching medical sociology courses at several New England colleges. The courses I have taught include: Profession of Medicine (so I am very comfortable writing about nursing and other health professionals), Research Methods, the Sociology of Death and Dying, Comparative Health Care in China and the United States, Introductory Sociology. For the past 14 years, I have been teaching Medical Sociology online at UMASS-Lowell. My students, more often than not, are not health profession majors and require lectures and notes that often simplify complex medical issues. Those students' needs have been invaluable in improving my ability to write about medicine for the general public.

I also teach writing at the University of Phoenix.